COOLHUB™: An innovative, sustainable solution for refreshing citizens in cities around the world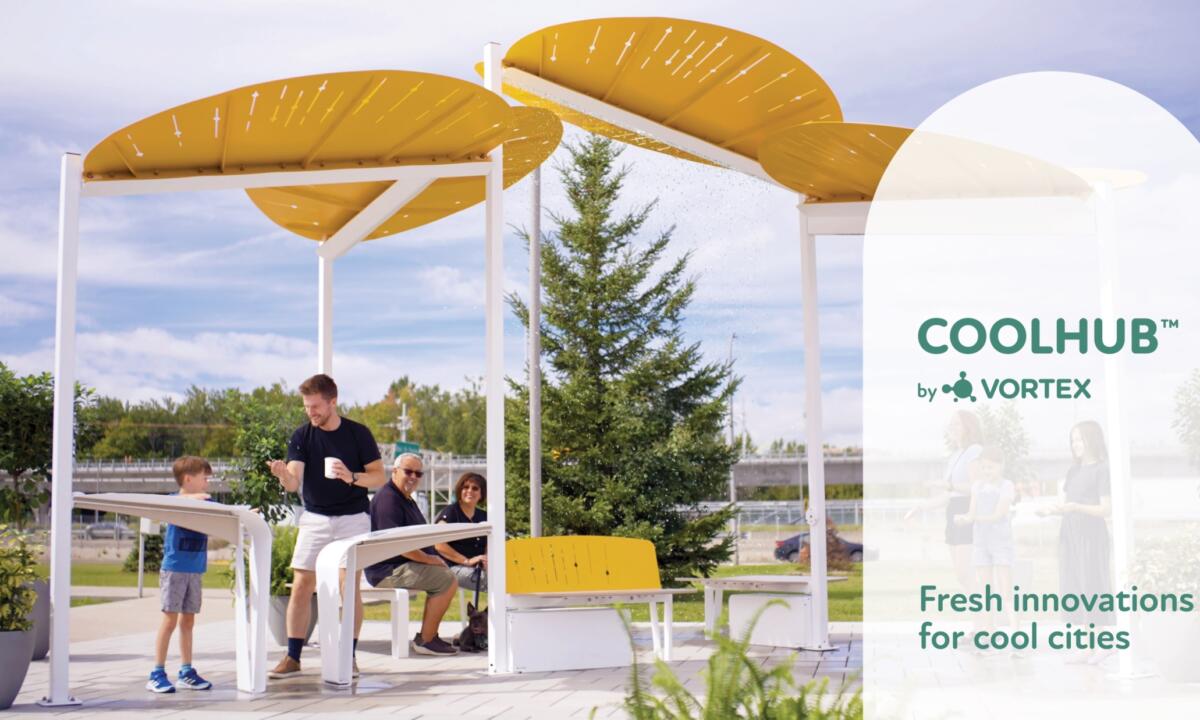 Vortex Aquatic Structures International, manufacturer and world-leader in aquatic play and public spaces, presents an innovative new solution to respond to the needs of citizens and communities facing rising temperatures. Offering instant refreshment zones to heat-stricken citizens, COOLHUB™ delivers innovative solutions in two collections: ABRIO and GLOMIST.
As an inclusive oasis for city dwellers, CoolHub™ combines water's cooling and calming properties with architectural design. It creates a welcoming, relaxing space for citizens of all ages – whether it's a tranquil stopover on the way to or from work, a gathering place for the family, or a respite for someone suffering from heat-related health complications.
"At Vortex, we recognize the urgent need for simple, practical, and easy-to-install solutions to minimize the impact of heat islands in cities and public spaces. With this in mind, our team of experts designed CoolHub™, an innovative sustainable solution that puts our water conservation expertise, aesthetic designs, and aquatic play experience to work for communities."
Stephen Hamelin, President and CEO, Vortex Aquatic Structures International
CoolHub™ will be launched at the National Park and Recreation Association (NRPA) Conference in Dallas, Texas, October 10-12, 2023. Attendees are invited to experience CoolHub™  in action at Vortex's booth 1131. NRPA is an annual gathering of professionals focused on best practices that create healthy communities through parks and wellness spaces.
As a sustainable and soothing oasis, Abrio helps refresh the community both day and night, while keeping water conservation at the forefront. Multiple configurations combine seating, shading and soothing aquatic elements to fit any space. Abrio features include: Vortex's soft rain and mist technologies that create a calming and refreshing experience, architectural canopies for shade, solar-powered LED lighting for a gentle illumination in the evening, a range of seating configurations, and an activator to manage water on demand. The soothing and playful river maze is also available to foster social interaction across generations.
To extend the range of CoolHub™, Glomist offers a whimsical and sustainable water feature that refreshes and cools the surrounding air – and passersby –  with a fine mist.
As an innovative solution, CoolHub™ requires minimal connection to a site's infrastructure, making installation quick and easy. Combined with on-demand activation technology, Vortex's proven water management technology ensures efficient water and energy usage. Coolhub™ offers a reliable, cost-effective solution to ensure the longevity of the installation season after season.
CoolHub™, Glomist and Abrio are the product of Vortex's 25+ years of expertise and technological know-how, gained through over 9,000 customized water-based technology installations in 50 countries on five continents.
Vortex Aquatic Structures International pioneered the first Splashpad® and today has installed over 9,000 projects in 50 countries. With hundreds of awards and distinctions over the past 25 years, Vortex remains a leader in aquatic equipment for city spaces, water parks and resorts worldwide. Vortex's aquatic equipment business is supported by a dedicated sales team in Canada, the United States and Spain, as well as a worldwide network of distribution partners.