Packed with Play on all Levels
A duo of multilevel aquatic play solutions, Elevations™ and PlayNuk™ add a new dimension to your activity pools, waterparks and Splashpads.
Whether you opt for a standard Elevations™ structure, a pirate-themed adventure or a world inspired by a tropical rainforest, our imaginative designs keep kids moving and coming back for more. Packed on both upper and lower levels with age-appropriate games and diverse water effects, our exciting structures engage all kinds of adventurers and promote multigenerational play—a major draw for families! 
In action
Flexible and Adaptable
With their modular building-block system, Elevations™ solutions are fully customizable to adapt to almost any exterior or interior site, ranging from a small PlayNuk™ to a sprawling aquatic destination. Attract a crowd with modern designs and vivid colors that complement your brand and the surrounding environment.
Elevations™ can also be retrofitted onto existing facilities to easily revamp or refresh them. Geared for toddlers and preschoolers, PlayNuk™ solutions are designed to entertain those who are just learning to slide. Our imaginative configurations breathe life into amusement parks, hotel and resorts, campgrounds, and municipal aquatic centers.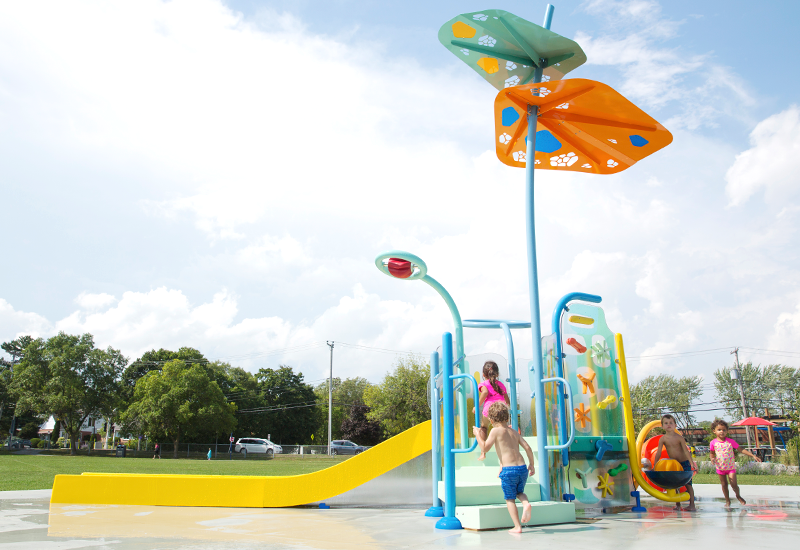 PlayNuk™
Identifying a play-gap in the 2-5 age group, PlayNuk™ is a new breed of Elevations™ that scales down accessories, softens sprays, and adds more lower-level interactions to make accessibility easy for younger adventurers.
View details
Ready to start your project?