Vortex International Supports NRPA Project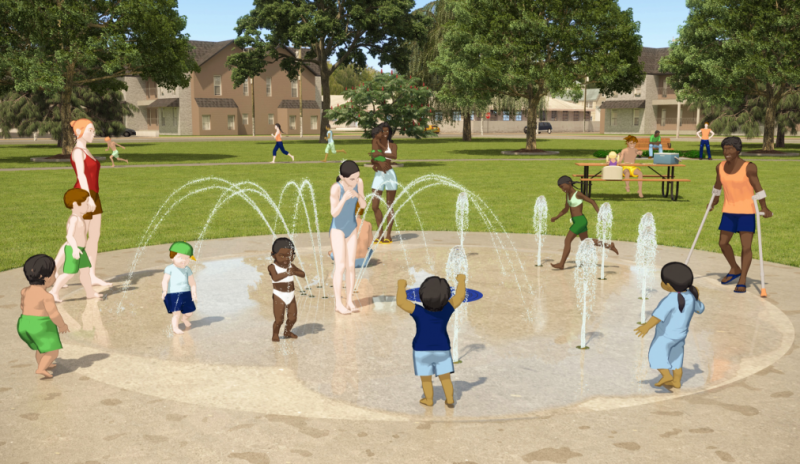 A Parks Build Community Project
Vortex Aquatic Structures International, a world leader in the aquatic play industry, is proud to support the NRPA 2019 Parks Build Community project by donating Splashpad® equipment for Catherine ABC Park in Charm City, Maryland. Vortex shares Parks Build Community's stance that kids should have access to play, no matter where they live.
"We share the NRPA's commitment to bringing play to kids everywhere," – Stephen Hamelin, CEO & President at Vortex.
On December 11th, city councilors and project leaders broke ground on this year's project at Catherine ABC Park on South Catherine Street in Baltimore, Maryland. The volunteer-run park will be refurbished and expanded with the addition of playground and outdoor fitness equipment, a new field house, basketball court, and aquatic play installation.
The City selected Vortex's signature play product, the Splashpad®, for the park, and the company gladly lent its support to the park project. The City wanted a sustainable, low-flow solution that requires little maintenance. Its design mirrors another Vortex Splashpad nearby: as the City was very satisfied with the overall design and solution, they chose to have it duplicated at Catherine ABC Park.
Stephen Hamelin, President and CEO of Vortex Aquatic Structures International, was proud to be involved in the project.
"We are happy to have the opportunity to be a part of the latest Parks Build Community initiative by providing Splashpad® equipment and our expertise in landscape aquatic designs for the expanded Catherine ABC Park. It's an important project that not only provides a safe, enjoyable play space for young people to escape from the hot summer days, but that also helps create a social hub for the community of West Baltimore."
Since its establishment in 2008, Parks Builds Community has both restored existing parks and built new parks from the ground up across the country, with completed projects in DC, Georgia, California, Texas, North Carolina, Nevada, Missouri, and Louisiana.