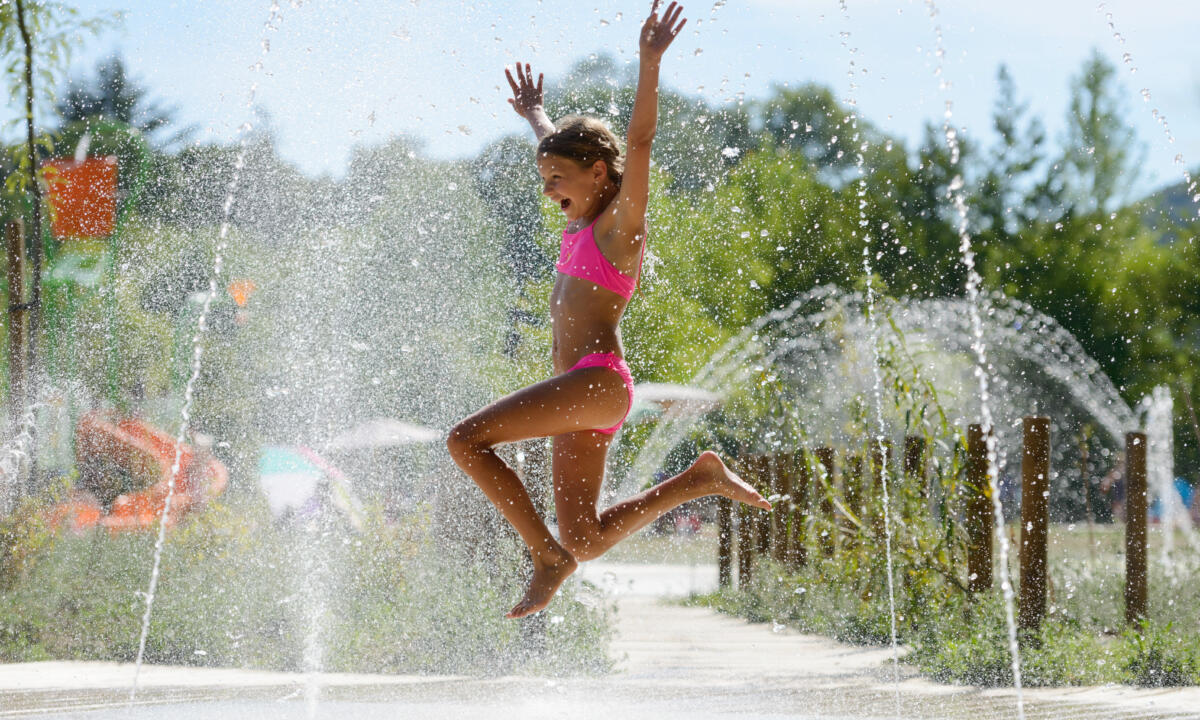 Innovative ground sprays for flexible play
One of the keys to a successful splash ground is the right water management system. Vortex is proud to introduce its Spraylink™ solution with a focus on a smaller carbon footprint, durability, modularity and flexibility, and of course play experience.
Spraylink™ is an innovative ground spray system with a lifecycle carbon footprint 70% lower than its predecessor all while providing more design flexibility and ultimately a better play experience.
The design thinking
Ground sprays are an essential part of any Splashpad® design. Since 1995, Vortex has developed an array of ground sprays that offer play experiences for all ages and abilities. Their popularity on Splash pads has led Vortex to embark on the development of a sustainable and even more playful product line.
Spraylink™ product highlights
70% reduction in carbon footprint
Easy assembly and installation
Durable materials
Interchangeable spray heads
Playful designs
Team-play models available with the interactive PodSpray™
A smaller carbon footprint

A priority for Vortex is to reduce its carbon footprint of both its facilities and products. By scrutinizing the lifecycle of ground sprays, Vortex identified better practices in the manufacturing process, material choice, and assembly and packaging through Spraylink's development. As a result, this sustainable ground spray system is composed of 100% recyclable material and reduces the overall carbon footprint of Splash pads.

Durability

Spraylink™ was designed to endure harsh weather and the wear-and-tear environments of unsupervised public spaces. The body of Spraylink™ is constructed of a specially developed unplasticized polyvinyl chloride polymer that meets Vortex's stringent performance requirements. Spray heads are composed of ultra-high molecular weight polyurethane (UHMWPE) and are extremely resistant to abrasion and staining, a significant advantage for this ground level application. Both materials are resistant to high-impact, ultraviolet radiation, chemicals, and water absorption.

Modularity & flexibility

When designing a Splash pad, product flexibility is important, adapting to the requirements of each space. Spraylink™ is a modular system that offers endless possibilities to configure a ground spray experience. Whether a geometric or a free-form shape, Spraylink™ can accommodate. This innovative ground spray system offers a variety of interchangeable nozzles, providing flexibility even after installation is completed. All spray heads are interchangeable to modify the water effect and easily removable for maintenance.

Play experience

Play is at the core of all Vortex products and with Spraylink™ all ages and abilities are covered. With the flexibility to create various shapes and a variety of water effects, Spraylink™ elevates ground spray play value. At the perfect height for fun, young children are attracted to ground sprays and the tactile play experiences they offer. With a playful, bright blue nozzle that is smooth to the touch, Spraylink™ increases the excitement for little adventurers. Older children will be drawn by the interactive team play products that incorporate Vortex's PodSpray™ technology.