A World Earth Day discussion: Water Management and your Splashpad

April 22 marks World Earth Day—a date of coming together and exploring innovative, actionable approaches to environmental protection. At Vortex, where every drop counts, we're taking this opportunity to explore some of the sustainability options Splashpads offer communities and resorts. Specifically, we want to discuss the different water management systems Splashpads employ.
It's important to understand that while no one water management system is de-facto "better" than the next, some designs will be more appropriately suited for your facility. Depending on your layout, demographics and surrounding landscape, different systems and design approaches can be leveraged to further your sustainability practices.
Let's explore how…
Types of Water Management Systems
To begin, let's look at the three main water management systems available for your Splashpad: repurposing, recirculation and flow-through.
Repurposing reuses your Splashpad's effluent water for surface or sub-surface irrigation.
Recirculation is a closed-circuit system that recycles and disinfects the water to and from the play area using advanced water treatment technologies.
Flow-through uses potable water running through the play area. Effluent water is then returned to the municipal wastewater system or percolates back to the water table.
Here's a breakdown of each system in greater detail:
Repurposing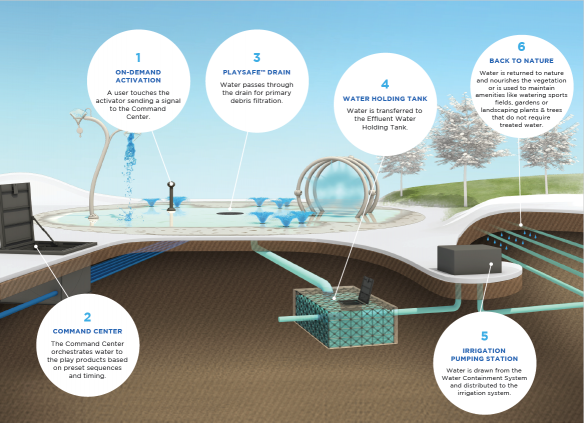 With repurposing, water passing through the drain is transferred to an effluent water holding tank then pumped through an irrigation station and sent back to nature. The beauty with this water management system is that your Splashpad can be designed with GPM specs that perfectly accommodate the surrounding landscape's watering needs. With repurposing, water can be used to irrigate nearby greenery or easily transported by trucks to other locations that need nourishment.
In San Jose, California, Park Kiely used this very approach to irrigate the landscaping at a nearby apartment complex. At the start of the project, Vortex assessed the water needs of the new plantings and turf then designed the Splashpad and its features around the area's watering needs.
Recirculation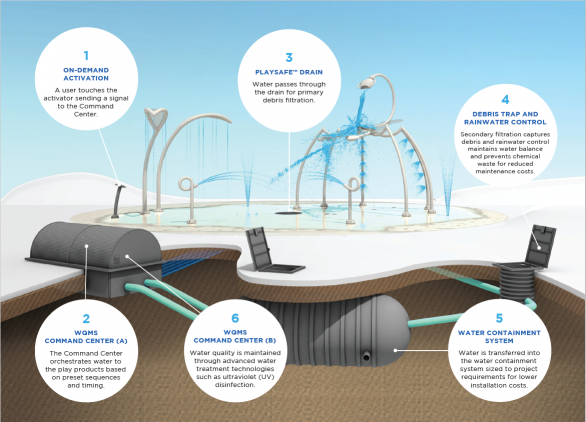 Of course, busy medium- to high-capacity Splashpads often need to run more water than what the surrounding greenery demands. For these types of facilities, recirculation is a great solution. With recirculation, water drains into a containment system that's sized to the facility's specifications. From there, it is treated then reintroduced to the play environment.
Flow-through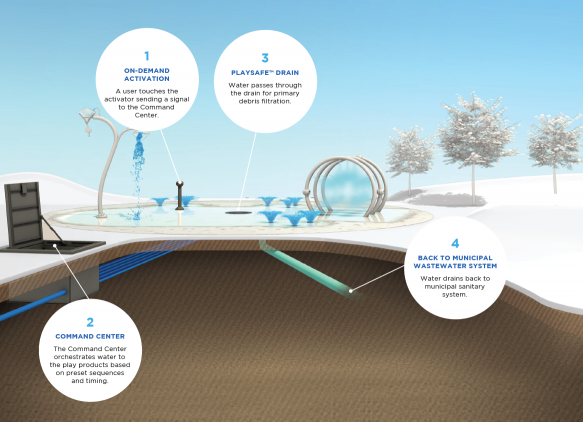 It goes without saying that communities and private water parks must account not just for sustainability practices but also budgetary realities. With the flow-through system, we're looking at a much more straightforward approach that requires less maintenance (and, in turn, cost) than repurposing and recirculation. Here, water filters directly back into the municipal wastewater system.
And although this system may not be as sustainable as the other two, it's worth noting that other design approaches can be used to in conjunction with flow-through (or any other system, for that matter) to further help reduce GPM. Let's take a look at two of them.
Water Sequencing
Water sequencing orchestrates flow based on multiple sequences and timing. It reduces overall water usage, streamlines crowd control and optimizes play value.
Here, we see four unique sequences that run one at a time—i.e. when number 1 is on, numbers 2, 3 and 4 are off. This type of sequencing promotes constant movement around the play area, which helps streamline crowd control and optimize play value.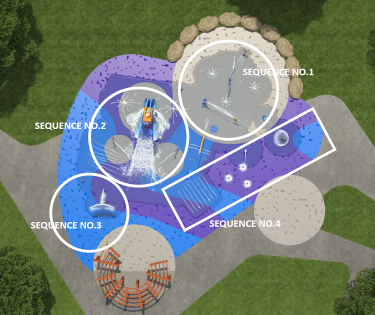 But most importantly, by clustering certain sequences instead of having everything run constantly, you're cutting your GPM by more than half! This 1500 sq. ft play area uses 90 GPM. By contrast, this Splashpad would normally use 190 if all features were running simultaneously.
On-demand Activation
On-demand activation is yet another innovative sustainable design solution. This is where sequencing takes place on a single event. In other words, a certain spray feature will have multiple activators that are triggered by guests. It makes the overall design far more efficient.
And at the same time you're saving water, you're also offering children greater interactivity. Little ones love the opportunity to take control of a specific play event. It makes the Splashpad experience even more open-ended!
Sustainability by design: Ready to learn more?
If you're interested in learning more about Vortex's sustainability practices, we've got a treat for you. Recently, we put together a webinar with two of our leading Splashpad experts, which is now available to download for free. The accredited webinar covers water management systems in greater detail while also exploring best practices on the economic and social fronts. To get it, simply click the link below.