Project Design
Planning for Today and Tomorrow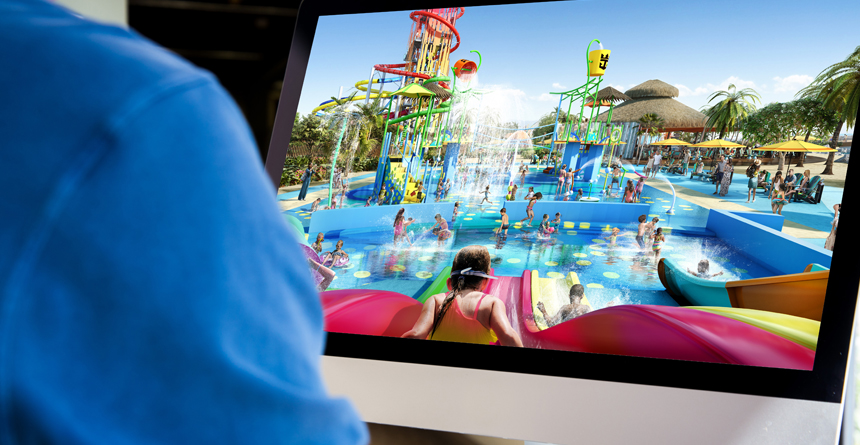 A Master Plan

Your vision is in good hands with Vortex. We constantly push the envelope to design more exciting, enriching, safe and sustainable aquatic play environments, for today and tomorrow. Every successful project begins with a master plan that not only addresses your immediate needs, but also allows for future flexibility. Our multidisciplinary project design team has a people-first approach with a deep insight on different markets and venues. We take the time to understand your project's objectives, scope, budget and timeline. Our projects are deliberately and creatively designed to offer the most in family engagement, community revitalization, destination appeal, operational efficiency and, of course, fun!
Purposeful Design
We understand that inclusive experiences have a lasting impact. That is why inclusivity is at the heart of our design philosophy. Each project is intentionally designed to provide a full spectrum of immersive, multi-sensory and interactive play experiences adapted for all ages and abilities. Our design experts develop the concept and layout, choosing the best products to maximize play. Little ones who are just discovering water play can enjoy safe, low-energy play with softer sprays and sensory interactions in shaded areas, while areas for tweens and teens use high-energy features to encourage movement, competition and adventure. We design with purpose.
Design inspiration
Enhancing Your Brand Story

Our solutions are fully customizable to complement your brand and adapt to the specific requirements of your exterior or interior site. Through our wide range of theming options, we infuse creativity into your venue's story so that your brand is emotionally engaging and ahead of the competition. Together, we create a narrative that immerses your visitors in larger-than-life experiences that they will cherish long after they have dried off. Whether you are revamping, refreshing or expanding your venue, our designs are scalable to evolve with your brand and ensure its long-term success. To breathe new life into your venue and transform it into an iconic destination, our designs consider the immediate and future needs of both the operator and the guest.